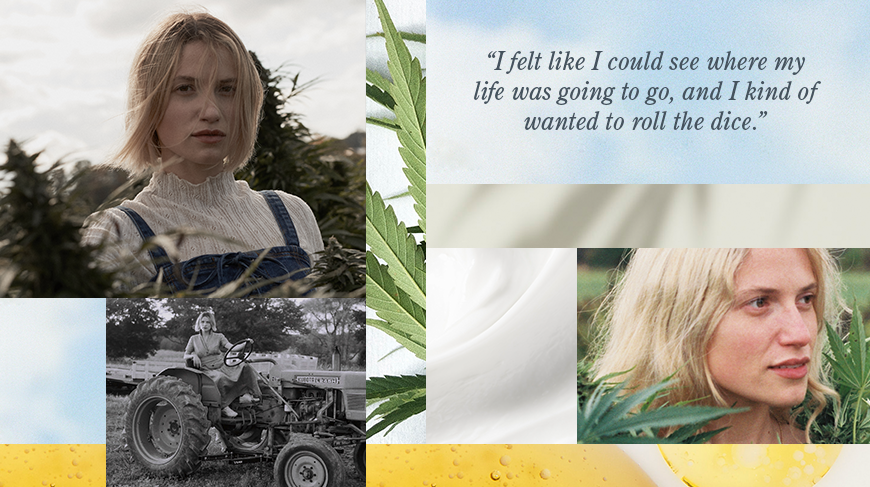 Melany Dobson: Hudson Hemp and the New Paradigm in Agriculture
Melany Dobson is equal parts eloquent, thoughtful, and inspiring. Now the VP of Brand Development at Hudson Hemp and a large part of its founding story, she is a testament to the power of hard work and a deep dedication to community and the planet. 
The daughter of a lettuce and heirloom tomato farmer and one of the pioneers of the northeastern farm-to-table movement, Melany never expected to follow suit and build a career around farming. "I respected what my father did, but there was a piece of my childhood where I was actually somewhat ashamed of what he did," she recalled to me on the phone, noting that she'd gone to a small private school where all of her friends' parents, it seemed, were doctors or lawyers. 

"There were moments where I felt a little bit on the outside because of [it]." By high school, when the front page in their local paper came out referring to her father as the "King of Greens" and expressing his pivotal role in the community and the future of its agricultural, her shame began to turn to pride. But she never saw herself following in her father's footsteps. 
After finishing her time at Bard College with a major in German Studies and still unsure of her desired career path, Melany packed her bags to head for California. "I felt like I could see where my life was going to go, and I kind of wanted to roll the dice." 

She was planning on moving to LA, where she had some college friends, and on her way, she went to visit a friend in Humboldt County who was growing cannabis in the legendary heart of the Emerald Triangle. She was immediately inspired. "There was a huge community around growing [cannabis], and a lot of them had risked their lives and their freedom for this plant. So it was a kind of incredible view of what an outlaw society looked like." Not long after her arrival, her friend decided to leave town, and Melany found herself overseeing her greenhouses, field/trip crews, and bringing the crop to market.
Melany was involved with the fast-moving vortex that was the newly-legal cannabis industry. By the end of that fall, Melany was overseeing sixty people who together were bringing thousands of pounds of product to market each week. The following February she co-founded People Need People, a cannabis labor agency that by its third month in operation held many of the contracts with medical marijuana companies in the greater Bay Area, an incredible opportunity to understand the ins and outs of the industry and the "back to the land" culture that the cannabis industry comes from. "Everything moved really fast there for me, both because I was very motivated and passionate and because the industry was moving so quickly."
Then she got the call to come back east. Her brother, Ben Dobson, had received one of the permits to grow hemp in New York, and that fall, after he harvested his first ten acres, he called Melany and her sister, Freya, (who by then was working with her) up. It was time for them to build a business together, to pioneer hemp farming out east.
Hudson Hemp, indeed, has been an incredible pioneer in the industry. It is, first and foremost and in addition to being a producer of high-quality CBD products, an operation dedicated to regenerative agriculture. According to the Hudson Hemp website, regenerative agriculture is "farming that supports soil, life and the planet – going beyond sustainability to actually replenish ecosystems, nurture biodiversity, and sequester carbon." 

They have adopted the farming practices that they grew up knowing and have blown them up, creating a model for what regenerative agriculture looks like on a large scale. And through Ben Dobson's partner organization, Hudson Carbon, an open-source, collaborative research project of the Foundation for Agricultural Integrity, that quantifies the effects of regenerative agriculture on the carbon cycle, the nitrogen cycle, and the water cycle, using state-of-the-art research tools. Hudson Carbon is dedicated to using this research as a driving force behind policy changes aimed at incentivizing the adoption of regenerative agricultural practices. If widely adopted, regenerative agriculture has the potential to reverse the worst effects of climate change. 
The higher mission of regenerative agriculture is what pushes Melany to show up and work hard every day to grow Hudson Hemp into the thriving and community-and-industry-shaping company it is becoming. "It's all about understanding that hemp is a revolution right now, in many ways. It's about truly recognizing that we are part of a revolution and with that, we can shift the paradigm. Industry in our country has mostly been damaging, destructive, and has not taken into account that resources are finite – we value them like they're infinite, and they're not. Hemp is a way to change what industry looks like, and it starts with how we grow it. It can't make a change unless in growing it we are helping to replenish the soil and the earth it's grown in. Regenerative agriculture can be a conduit to regenerative industry."
Melany's deepest mission is to reconcile the difference between the values that drive her work and her personal life. "I feel like it's only when we're able to make the public and the private one and the same that we're truly doing the good work, and that is not an easy thing to do. Bringing regenerative values to myself is when I'll feel like I can truly teach what it means to live a regenerative life. I know what it would look like, but it's going to take some hard work to get there" To her, this means living a closed-loop lifestyle, "having a true homestead with a big garden that you can share with your neighbors, preserving goods for the winter, growing a lot of root vegetables that you can save in your cellar, fermenting things, and composting right back into your garden. I do my best, but I could be doing better."
Needless to say, we need to keep our eyes on what Melany Dobson and Hudson Hemp are doing not only to redefine agriculture in upstate New York but to redefine industry and agriculture across our country and even globally.
Sign up here to be notified when our collaboration with Hudson Hemp drops!
Shop this story
Liquid error (sections/article-template line 108): product form must be given a product
Liquid error (sections/article-template line 108): product form must be given a product
CBD Goat Milk Body Cream
Goat Milk Body Cream
$14.00